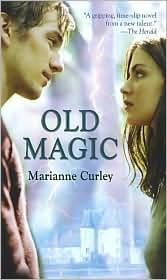 When Jarrod Thornton walks into the classroom, Kate Warren instantly senses that he is as different as she is. In anger, he unknowingly unleashes a storm in the science lab and Kate realizes that he has exceptional paranormal abilities that exceed her own. As an uneasy friendship forms, she helps Jarrod confront and internalize his talents. With her grandmother's help, the teens journey back to the Middle Ages and break the curse that has controlled the Thornton family for generations.
(Description from Amazon)
I read this book in one sitting! Kate and Jarrod have great chemistry and I like how they don't just fall in love at first sight. Once they do warm up to each other, it's very sweet. Also, Jarrod doesn't automatically believe in magic when Kate tells him about his powers, which makes it more believeable.
The plot is fast-paced but well thought out and keeps you turning the page. Curley does an excellent job at describing the historical aspects. The writing is excellent and I love the Australian slang. Pick up this book, especially if you are a fantasty/romance/adventure lover!
I need to read Curley's other books!